Join us and submit your cosmetic design for it to become part of the game!
The Cosmetic Design Contest is back, and we are excited to be adding another cosmetic designed by—YOU to Blade & Soul! If chosen, your design will be created and put into the game for all players around the world to enjoy!
This year's contest theme is the upcoming brand-new class—the Musician! Design an outfit a musician would enjoy wearing, be it on stage or battle, the choice of styling and direction is completely up to you!
Costume Design
Design and create a costume for the upcoming Musician class in Blade & Soul for this year's Cosmetic Design Contest. You may take inspiration from medieval, East Asia and fantasy bard outfits and create your very own version of an outfit for the Musician. The below artwork of the Musician serves as a reference.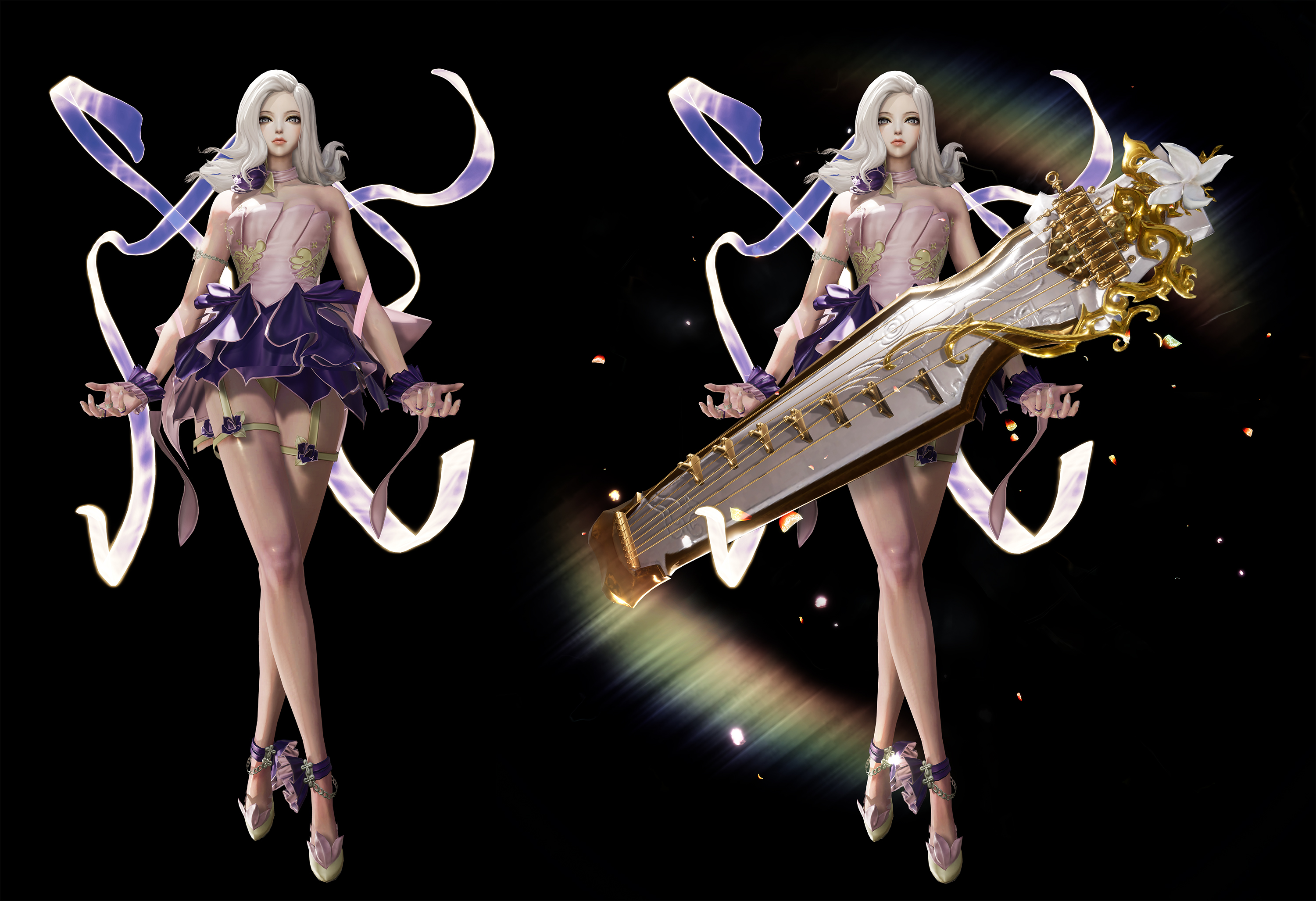 You can include the design of a head or face adornment to accompany your costume, only be aware that they may not end up as part of the final in-game design when the winning design is implemented in-game.
Note that we are not looking for an illusion weapon design, this is a costume only design contest.
About the Musicians
Musicians are masters of rhythm and tone, using elements of traditional music to bolster and encourage allies and using powerful soundwaves to blast opponents. Creative and cunning, Musicians can control the flow of battle with uplifting melodies or symphonies of destruction depending on what is needed.
The Musicians are equipped with powerful harps as their weapon, and they will be available to female characters of the Jin, Yun, and Lyn races.
Prizes
For the 2022 Cosmetic Design Contest we have a headset as Grand Prize along with other in-game prizes!
One Grand Prize Winner will receive:
SteelSeries Arctis 7 Wireless headset
Design made into an in-game costume with a personalized in-game tooltip
Delivery of costume once development is completed
8,000 Hongmoon Coin
One Costume Outfit of your choice (restrictions apply)
The remaining four finalists will each receive:
6,000 Hongmoon Coin
One Costume Outfit of your choice (restrictions apply)
Five additional Runners-up will each receive:
Entry Period
You may enter the contest starting September 19, 9am PST / 5pm BST. The last day to send your submission is October 23, 2:59pm PST / 10:59pm BST.
Submission
Your artwork can be hand drawn or digital and it must be your own original work; any designs that violate copyright or someone else's intellectual property will be disqualified. Any design and inspiration notes are optional, but we would love to see the thought process behind your design.
Be sure you have read the official Contest Rules in English, or the Contest Rules in Spanish before entering. 
All entries must be emailed to BNSCommunity2@ncsoft.com with the email subject "Blade & Soul 2022 Cosmetic Design Contest" and include the following information:
In-Game Character Name and Server
Country you are currently residing in
Attachment of your design
Name of your design
The following statement within the body of the email: "I hereby confirm this is my original artwork to be submitted as an entry in the Blade & Soul Cosmetic Design Contest."
Please follow these guidelines when submitting your email:
Maximum 1 image of the design (you can create a collage of your design within that 1 image)
Your costume design submission must contain a front and back view of the costume
The costume must be showcased on a female character
A short description of the design in 150 words or less
Image file formats must be in .jpg or .png format
Please keep file size under 10mb
Entries that do not meet these requirements will be disqualified.
Judging
The Blade & Soul team will select five Finalists which will be published on our forums along with their submitted design. All players that have signed up in our forums are able to cast their vote for the Grand Prize Winner.
The forum voting will begin around October 27 and will last 4 days (the exact date will be announced on our social channels when all entries have been reviewed and when finalists are selected)
The Grand Prize Winner and Finalists will be announced sometime around November 1
Judging will be focused on the interpretation of the Musician theme, its fit with the style of Blade & Soul aesthetic, as well as the creativity and coherence of the design.
Have your pencils and tablets ready—for the 2022 Cosmetic Design Contest is now open!